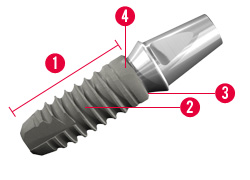 Based on the concept of "comprehensive restoration of oral function," IAT Implant System systematizes the whole process from osteotomy to fabrication of the upper structure so that dentists can perform procedures in a smooth and safe manner. The system covers a wide range of prosthetics treating from a single missing tooth to a partially edentulous arch or a totally edentulous jaw. In addition, the simple procedures and affordable price of the system surely ease the burden on both dentists and patients.
Characteristics of IAT EXA Implant System
High wettability promotes vital reactions that benefit osteoanagenesis.
ED Surface (a surface machined with electrical discharge) is a clean surface created and shaped through electrical discharge machining with a pure titanium wire electrode, and it consists of a micropit surface made by regularly arranged traces of electrical discharge and a thick oxide film of functionally slanted structure. The wettability of ED Surface with bodily fluids and blood is extremely high. Therefore, after it is inserted into the jawbone, proteins and cells congregate on it and promote vital reactions that benefit osteoanagenesis.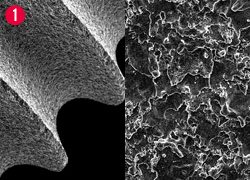 Achieves strong initial stability
The threaded area reaches the uppermost part of the fixture. In addition, the groove becomes shallower as it closes to the upper part, and therefore, strong initial stability is achieved.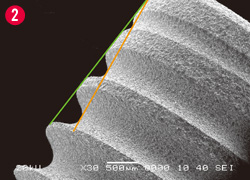 Enables osteoanagenesis up to the upper rim of the fixture
Applied up to the neck of the fixture, ED Surface enables osteoanagenesis even at the upper rim of the fixture.
In addition, thanks to the biological width at the boundary between an implant and an abutment, which is achieved with the platform switching, absorption of the alveolar bone is minimum.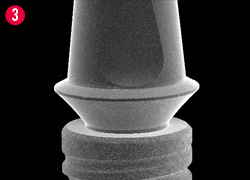 Enables excellent operability and a close fit
Twin hex tapered structure of the fixture enables excellent operability and a close fit.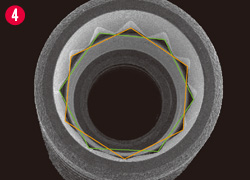 Prosthetic System
IAT EXA Prosthetic System consists largely of the following three systems.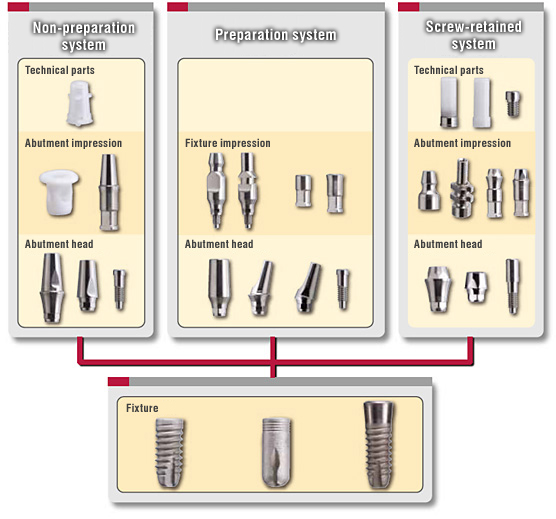 Products
Fixture Approval number : 20700BZZ00172000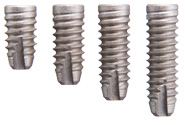 Two-stage screw :
Standard fixture of IAT EXA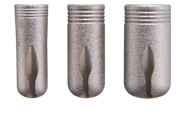 Two-stage cylinder :
Covers various prosthetics and enables speedy insertion.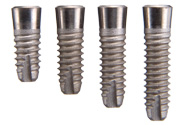 One-stage screw :
Suits the one-stage surgical procedure that eases the burden on patients.
Abutment Approval number : 20700BZZ00172000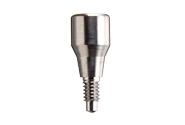 Mucous membrane healing abutment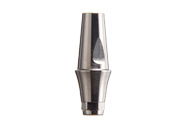 Cement-retained abutment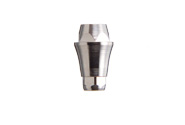 Screw-retained abutment
Parts for fabricating prosthetics
Parts for dental impression

Notification number : 11B1X10020000004

Implant analog

Technical parts

Approval number : 20700BZZ00172000




Approval number : 20900BZZ00940000
Instruments
Cutting drills for osteotomy Notification number : 11B1X10020000001, 11BLX10020000003

The drill system, which was highly evaluated especially in long-term clinical settings, is further improved in terms of cutting ability and durability. It helps to shorten the length of surgery and eases the burden on a living body.
Assistive tools Notification number : 11B1X10020000002

Color-coded according to the diameter of fixtures, the tools are improved in terms of operability and safety.
Contact us
Please feel free to contact us if you have any questions or want consultation on dental implants.
Nippon Piston Ring Co., Ltd.
New Product Business Development Department
Implant Group
Tel: +81-280-23-1067
Fax: +81-280-33-3676
To contact us by e-mail, please visit the IAT implant system website.