Summary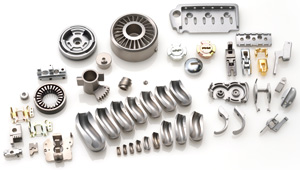 In recent years, diverse processing technologies and methods, such as machining, precision (lost-wax) casting, die casting, press sintering, are being selected and adopted for the forming of metal parts to meet functional and cost requirements. METAMOLD, a metal injection molding (MIM) process, developed as a new 5th generation processing technology in addition to these processing technologies based on our long cultivated metallurgy technology, enables the production of very complex shaped parts similar to plastic products or die cast products, but with savings in resources and energy.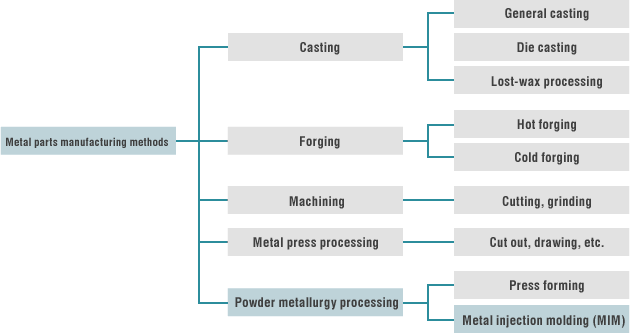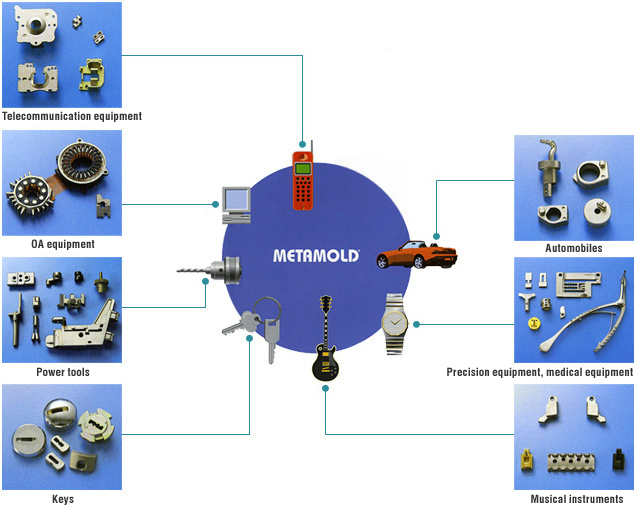 *METAMOLD is a registered trademark of NPR for its Metal injection molding (MIM) parts.
METAMOLD Process
1.Kneading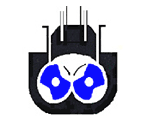 Metal powder and binder (wax + resins, etc.) are kneaded together uniformly.
2.Pelletizing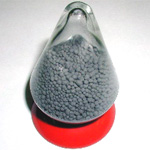 The mixture is pelletized for better moldability.
3.Injection molding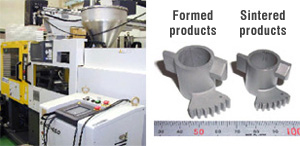 Injection molding is done to produce formed items, similar to plastic products.
Mold

The mold will shrink about 10% to 20% after sintering. A mold will be created slightly larger in dimensions than the actual product, taking shrinkage into consideration.
4.Binder removal (degreasing furnace)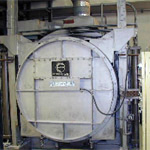 The product is heated to remove the binder.
5.Sintering (continuous sintering furnace)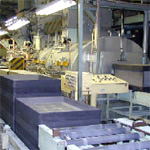 By sintering, a high density sintered product with relative density of 95% or higher is obtained.
6.Inspection / Shipment
Apply post processing (heat treatment, plating, etc.) as required, and pack and ship after inspection.
Features of METAMOLD
1.Costs reduced by forming of complex shaped items integrally.
METAMOLD has enabled the mass production of complex shaped products, similar to plastic and die cast products, from various metals. By enabling integral forming, it has enabled the manufacture of complex shaped parts for all fields at low cost.
2.Enables highly flexible design focused on design and functionality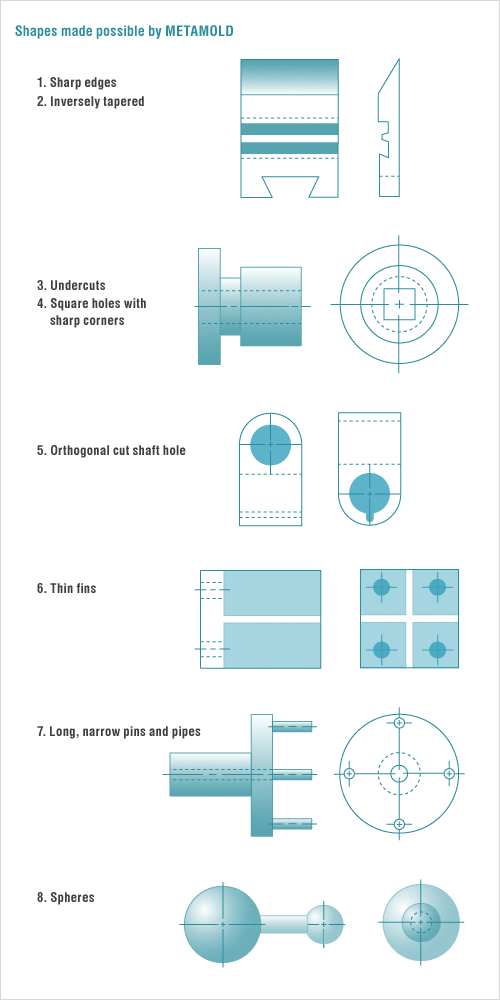 3.Excellent properties, such as high density and high strength promised
METAMOLD enables the manufacture of sintered items with a relative density of 95% or higher by using very fine metal powder. It has excellent mechanical properties, corrosion resistance and magnetic characteristics, and can provide a maximum surface roughness of around 6S after sintering.
Structural comparison of METAMOLD and conventional powder metallurgical products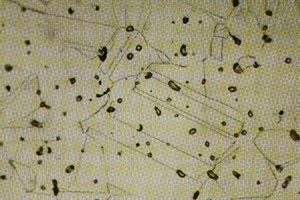 METAMOLD

It has excellent mechanical properties for its high density, with vacancies that are spherical and independent.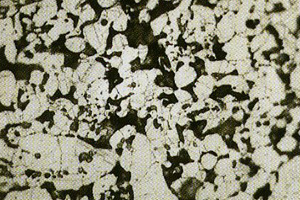 Powder metallurgical products

It has poor mechanical properties from its low density, with irregular vacancies existing along the grain boundary.
4.Shows superb dimensional accuracy
Internal stress and powder packing density are uniform because they are formed by introducing metal powder into the metal die cavity using binders. As a result, isotropic contraction occurs and high-accuracy dimension (±0.5% or less) can be obtained.
5.Diverse processing possible
Diverse processing to respond to complicating client needs, such as tapping, mechanical processing like various grinding, quenching and tempering, vacuum heat-treatment, plating, and lubricant processing, is possible.
Material characteristics and applications
Material
Material quality
Characteristics
Applications
Low alloy steel
Fe-Ni-C
High strength, high toughness
Automobiles, sewing machines, guns
Fe-Cr-C
High strength, friction resistance
Power tools, hydraulic machinery, musical instruments
SNCM,SCM
Shock resistance
Keys, automobiles
Stainless steel
SUS316L
Corrosion resistance
Fishing goods, OA equipment, timepieces
SUS630
High strength, corrosion resistance
OA equipment, medical parts
SUS410L
Electromagnetic characteristics
Electromagnetic parts, valves
SUS444
Electromagnetic characteristics
Electromagnetic parts, valves
SUS440
high strength
Time pieces, medical parts
SUS262
Allergy resistance, high strength
Timepieces, hair dressing
SUS420J
High strength, corrosion resistance
Pneumatic machinery
SUS440C
friction resistance,corrosion resistance
Spinning machines, blades
Titanium
Pure Ti, Ti alloy
Corrosion resistance, light weight
Timepieces, hair dressing
Other
Super invar
Low thermal expansion
AV equipment
Kovar
Thermal expansion close to glass
Measuring equipment
Cemented carbide
High hardness, high corrosion resistance
Keys, timepieces
Heavy alloy
High specific gravity
Weight
Mechanical properties
Material

Material quality

Tensile strength (MPa)

Elongation (%)

Hardness, etc.

Low alloy steel

Fe-Ni-C
1000-1800
2 - 10
HRC 30-50
Fe-Cr-C
1000-1800
1 - 7
HRC 30-60
SNCM
1120
3

Surface hardness Hv

 650 - 700
Stainless steel
SUS316L
530
40
SUS630
1300
10

Post aging process HRC42

SUS410L
380
45
SUS444
450
35
SUSXM27
570
25
SUS420J
1000
8
HRC ≥40
SUS440C
−
−
HRC ≥50
Titanium
Pure Ti
555
15
Hv 150-240
Ti alloy
780
5
Hv 260
Other
Kovar
540
30
Cemented carbide
−
−
Hv 1600-1800
Heavy alloy
−
−

Specific gravity 18
Design points
Nominal dimensions (mm)

General tolerance(±mm)
Special tolerance(±mm)

Dimensional tolerance

≤10
0.10
0.03
10<L≤20
0.15
0.10
20<L≤30
0.20
0.15
30<L≤50
0.30
0.20
50<L
0.5%
0.4%

Angle

General tolerance(±')
Special tolerance(±')
0.5'
0.3'

Surface roughness

Rmax
<12S

About 6S

Injector mark

0.05 - 0.1mm

Parting line

0.05 - 0.1mm
*The values vary depending on material and shape.