Activity for environment protection
Revised in June 29, 2016
Environmental Policy
Recognizing that it is one of the most important subject for a mankind in common totake over the blessed global environment to the next generation, we will implement the followings for building up harmony between corporate activities and natural environment.
1.Exerting ourselves for progress of the result by continuous improvements according to constructing environmental management system and setting up environmental targets based upon its policy.
2.Exerting ourselves for prevention of environmental pollution by controlling waste by the effective use promotion of resources, complying with related legal requirements.
3.Exerting ourselves to contribute to the global environment by promotion of supplying long-life parts with high performance and high efficiency for a clear air.
4.Exerting ourselves to preserve environment-related, activities paying attention to a dialogue with local residents as well as being aware of our duties as member in local society.
5.Exerting ourselves to improve recognition and consciousness of environments, communicating environmental policy to all persons working for or on behalf of our company by making of climate valuing environment, resources through environmental education, enlightenment activity.
Guideline for activity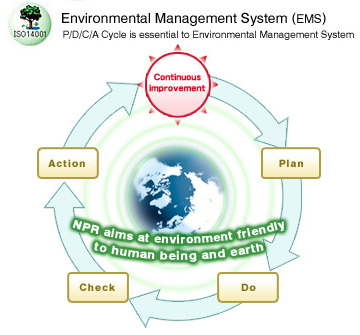 NPR ECO-PRODUCTS
We are helping to reduce the burden on the environment through various engine parts.
Place your mouse over an item to see corresponding data.
Products

Piston Rings

Cylinder Liners

Camshafts

Valve Seat Inserts

Others

Valve Train Parts

Environmental improvement issue

Reduction of fuel consumption

Reduction of friction
Weight reduction / Thinning ring width
Lean-burn
○
○
○
○
○

Reduction of emission

Reduction of LOC
Combustion at high pressure / temperature
EGR, Hybrid
○
○
○
○

Refining for clean fuel

Copling with alternative fuel such as CNG

○
○

Reduction and prohibition for the use of rare-metals / environment destructive substances

○
Acquisition of ISO and IATF certificator
Plants
Head Office
Tochigi Plant
NPR Iwate
NPR Fukushima
Certification Title
(Acquiring date)
ISO14001:2015
(December, 2000)
○
○
○
○
ISO9001:2015
(January, 1999)
○
○
○
○
ISO13485:2003
(June, 2015)
○
IATF16949:2016
(October, 2017)
○
○
○
○
ISO13485:2003
(May, 2015)
○
○