Procurement Policy
NPR Group seeks harmony with society and responds to environmental changes in order to contribute to the progression of mankind based on our concept of the "Customer First Principle," and express our gratitude in return to all stakeholders, including the shareholders and employees by securing appropriate profit through continuous innovation and improvement in performance. The Procurement Department procures the required amount of goods of the specifications required by the NPR Group when required globally at an optimum and appropriate price, and this facilitates improvements in product quality and product costs. NPR group works with our suppliers to provide products that satisfy customers.
1. Open Procurement and Fair Competition
Based on the principle of free competition, NPR group provides all suppliers with fair and equal participation opportunities irrespective of nationality, scale, and the existence of transaction records. We select suppliers by comprehensively considering the business continuity, including response to changes, CSR activities, and approach to environmental issues, etc., as well as quality, cost, supply capability, technological development ability, and ability to make proposals.
2. Legal Compliance and Social Responsibility
NPR group performs procurement activities complying with laws and regulations, social norms, and corporate ethics, while giving full consideration to human rights, safety and health, and environmental preservation. In addition, we strictly control any confidential information that has become aware in the course of procurement activities.
3. Coexistence and Co-prosperity
NPR group builds trusting relationships with suppliers through mutual communication, aiming for a sustainable coexistence and co-prosperity with suppliers.
※Green Procurement
While promoting procurement of materials and services with low environmental impact, NPR group performs procurement giving priority to suppliers who are actively addressing environmental concerns, etc.
※Conflict Minerals
In consideration of achieving social responsibilities in procurement activities, the policy of NPR group is to refrain from purchasing any conflict minerals that may cause human rights abuse and environmental destruction. Hence, NPR group conducts appropriate investigations of the origins and supply chains of materials, in cooperation with our suppliers. We have not identified the use of applicable conflict minerals to date.
Flow to start business
The standard flow to start business is as follows. Please note that it may vary depending on the item.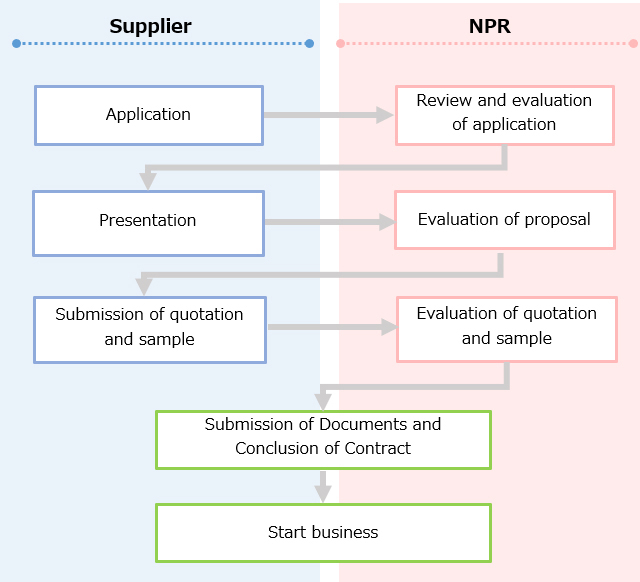 Procurement Items
Raw Materials

・Steel wires
・Raw materials
for casting
・Raw materials for sintering
・Fuels
・Oils
・Gases

Consumables

・Oils
・Gases
・Cutting tools
・Grindstones
・Abrasives
・Industrial chemicals
・Packing, wrapping materials
・Other consumables

Equipment

・For casting
・For powder press
・For sintering
・For machining
・For surface treatment
・For inspection
・Repair parts

Dies and Processing

・Dies for casting
・Dies for powder press
・Dies for metal injection molding
・Machining
・Heat treatment
・Plating

Others

・Logistics
・Collecting industrial waste
・Building repair work
・Equipment repair work
For suppliers seeking new transaction, click below and send us your information.