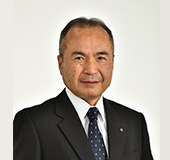 Let me express my deep thanks to you, our shareholders and investors, for your special support for the NPR Group.
The overview of business results of our Group in the first half of FY2021 is reported as follows.
The world economy saw signs of recovery from the COVID-19 pandemic in the first half of FY2021. However, lockdowns and movement restrictions were enforced due to the spread of the new variants of virus in some regions of Asia, and we cannot foresee when the pandemic will end. Japan experienced a recovery in personal consumption and an improved exports owing to recovery in overseas economies. However, with the repeated declarations of state of emergency due to an increase in the number of newly infected people, the momentum for recovery of economic activity is sluggish and the future of the economy remains uncertain.
In the automotive industry in which our group is involved, global automobile production volumes have increased with demand recovering from the same period of the previous year, which saw a sharp decline in demand as a result of the spread of COVID-19. However, we had to conduct production adjustments due to the supply shortage of automotive semiconductors and stagnant supply of parts.
Under such circumstances, despite our group was affected by the above production adjustments, sales increased to 25.497 billion yen (up 29.9% from the same period of the previous year) as a result of demand capture in line with market trends.
In terms of profit and loss, the rise in raw material prices had an impact on profits. However, our continued efforts to reduce costs and fixed expenses as well as an effect of increased production resulted in an operating income of 1.731 billion yen (operating loss of 1.487 billion yen in the same period of the previous fiscal year) and an ordinary income of 1.858 billion yen (ordinary loss of 1.249 billion yen in the same period of the previous fiscal year). Net income attributable to owners of parent was 1.277 billion yen. (net loss attributable to owners of parent of 1.944 billion yen in the same period of the previous year).
Self-restraints and restrictions of social and economic activities are being lifted gradually, and economic recovery is expected. However, in the automotive industry, there are still downside risks due to the impacts through supply chains inside and outside of Japan, and the forecast of consolidated earnings for the full year remains unchanged at the net sales to 51 billion yen, operating income to 2.6 billion yen, ordinary income to 2.7 billion yen, and net income attributable to owners of parent company profit to 1.7 billion yen.
For the dividend payments, we regard it as one of our key business policies and distribute profits properly and consistently, the interim dividend was 20 yen per share in line with the previous forecast. For the year-end dividend is forecasted to be 40 yen per share and the annual dividends is forecasted to be 60 yen per share, including an interim dividend. We will continue to strive to further respond to the expectations of our shareholders and investors with awareness of stable dividends
In the 8th Mid-Term Management Plan which started in this fiscal year, based on the basic policy "Change as Chance," not only business recovery from the impact of the COVID-19 pandemic, but we will also aim to sustainable growth and enhancement of corporate value in the mid-to-long term through building of systems for overall optimization to respond to changes.
We would like to ask for deeper understanding and stronger support from all shareholders and investors.
November 12, 2021
Teruo Takahashi
President and Representative Director